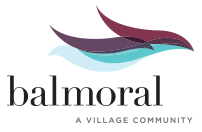 Balmoral Village Collingwood: FAQ
As we move further toward completing our brand new, state of the art, one of a kind active lifestyle community we receive more and more questions from interested parties. We are always happy to answer any questions you might have, they make us think about new ways to develop our community to better suit the needs of those who will enjoy it.
Here are a list of questions answered by Thomas Vincent himself. Please do not hesitate to send us your own questions, we will get back to you promptly with a thoughtful answer. In the meantime, browse through these and see if your question has already been answered!
Q: What is the expected construction start date? Have all permits been obtained?
A: Construction started a year ago. Services are completed and the Seniors Rental Apts. Will have model suites of the Apts, and the Retirement Residences ready in May and occupancy will be Oct/Nov, 2017. Opening will be November 2017. The first phase of bungalows and townhomes will be ready in June/July 2017. Expectations are that the Condo Block will be ready for occupancy early 2019 and the Medical/Wellness Centre will be ready at the end of 2018. All residences will be Tarion insured.
Q: What is the initial deposit?
A: Deposits differ depending on the project purchased, but generally, there will be a 10% deposit, increasing at the end of 30 days and 60 days.
Q: Can you describe the parking?
A: Both underground parking for the condos and surface parking for the Retirement Residences will be provided.
Q: What are the condo fees expected to be and what will they cover? What other fees are there?
A: For the Condo Block the monthly fees have been projected to average .39 cents per sq.ft./month for the first year. This cost covers all the maintenance for the building including the underground garage. There will also be an Recreation/Clubhouse fee of $150.00/month included in the monthly condo fee.
Q: Can I rent my unit? Are there age restrictions on the rentals?
A: Yes. For the condo units there will be a minimum rental period, probably a 4 month minimum to be confirmed.
Q: Is there another project in Ontario that compares to Balmoral Village?
A: No. Balmoral Village is an exceptional project that offers more flexible housing choices and more services than any other mature adult development in Ontario.
Q: What are the prices and do they include HST?
A: Pricing for the condos will be in the region of $375-400 per sq.ft. All prices will include HST.
Q: Are there any restrictions with the number of persons or their age in the development?
A: Yes, this is an Adult Lifestyle Village and sold to Residents 55+ years.
Q: Are pets allowed and are there any restrictions?
A: Pets will be allowed in the Condos, but will be restricted by size. One pet per condo.
Q: What is available in the Recreation Centre and is it for residents' use only?
A: See our electronic brochure or website that lists the Rec/Clubhouse facilities. Yes the Recreations Centre is only for the Residents of Balmoral and their guests.
Q: Will there be any security?
A: State of the art electronic security will be included in the Condo Building and the Retirement Residence will have 24 hours staffing.
Q: Do you have a list of standard finishes for the condos?
A: This will be available prior to the Agreement of Purchase and Sale being signed for you to review.
Q: What are the main reasons residents buy homes in Balmoral?
A: Simply put, purchasers understand what they may want for their future years and that Balmoral, as the only Adult Village of its kind in Ontario, offers a fabulous location and all the services they may want, within walking distance. Having over 100 km of hiking and biking trails adjacent to Balmoral is very attractive. A true Four Seasons Resort Area.
Q: What does "Aging in Place" mean in this community?
A: "Aging in Place" means that you can choose the quality of housing that suits your budget that you need today, and smart size to alternate housing within Balmoral Village as your conditions may change allowing you to never have to leave the Community and your friends.
Q: Can I keep a boat anywhere nearby?
Yes, there is the Cranberry Public Marina where you can moor a boat during the season and an adjacent public launch for smaller sized boats on a trailer. This facility is only a 5 minute walk from Balmoral Village.
Q: Where is the closest Golf Course and Tennis Club?
A: The Cranberry Golf Course is a public course and all residents have the advantage of a Membership Discount. Cranberry also has a Tennis Club. These facilities are only a 5 minute walk from Balmoral Village.
32. Is there any special health care package available in this development?
A: There will be a Medical Concierge service available to all Balmoral Residents at a low monthly cost. The Medical Concierge will coordinate doctors' appointments, procedures, prescriptions, therapies, personal care options – everything necessary for the maintenance of a healthy, balanced life.                                 Residents in the Retirement Residence may have additional health care needs that will be looked after at the Residence. In addition, there will be Personal Support Workers available on site for all Residents of Balmoral to look after their additional needs at the Medical Wellness Centre or in the privacy of their own home.
Have more questions? Send them to us!