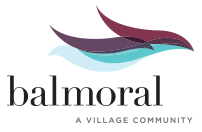 The Condos at Balmoral Village – Maintenance Free Living in Collingwood's Only Adult Lifestyle Village for a Healthy Active Lifestyle.
Balmoral Village is an innovative vision in holistic, balanced living for forward thinking people in their maturing years. Located in the stunning four-season Collingwood area, Balmoral Village is located on 23.5 acres in Collingwood's west end along the Black Ash Creek, a ten-minute walk from downtown.
What separates Balmoral Village from the typical "retirement" community is its size, choices of housing, quality wellness and recreational services. Balmoral Village is the only community of its kind, that accommodates every stage of life for those who are 55 and older. It offers inspirational housing choices and programming from independent living through to enriched care when it is required and every stage in between.
The Condos at Balmoral Village were the right choice for Bruce West, who chose a spacious two-bedroom condo. The convenience of a maintenance free condo suited his independent active lifestyle. Bruce has nothing but good things to say about the location and amenities at Balmoral Village; right on Collingwood's incredible trail system, with essential shopping within a 1/2km walking distance, as well as easy transit to downtown. Bruce says, "It's the right decision, where we can extend that period where we can be active, enjoy friends and stay involved." It's also ideal for the active group in Collingwood who are mainly here because they ski and remain active with nothing unusual about taking 20 to 50km group bike rides. Bruce describes Balmoral Village as big news for Collingwood area, saying  "there's nothing else like it."
Bruce welcomes the progressive concept of Balmoral Village for people who are thinking forward, and explains that this comes from his many years of involvement at Blue Mountain Hospital. "The Hospice has exposed me to times when decisions are left too late." His own 101-year-old mom is his example of making the right move at the right time. "She moved into an unassisted apartment 30 years ago and it's been great for her health. She's active and as sharp as when I was young."
Balmoral is founded on principles that celebrate life, and nurture a culture of social health within a vibrant community. In this environment, residents can smartsize as they age and require further wellness or medical services.
The community is fast becoming established. Buyers of the freehold bungalows have moved in this year. Balmoral Place retirement residences, and seniors rental apartments are ready for occupancy on December 1, 2017. The Condos at Balmoral Village are now taking reservations for our ground-breaking this Fall. Take advantage of pre-construction pricing and best suite selection today. Contact Jessica with our Royal LePage Sales Team, jryerse.rlp@gmail.com, 705-445- 5520. X 302 or register here.